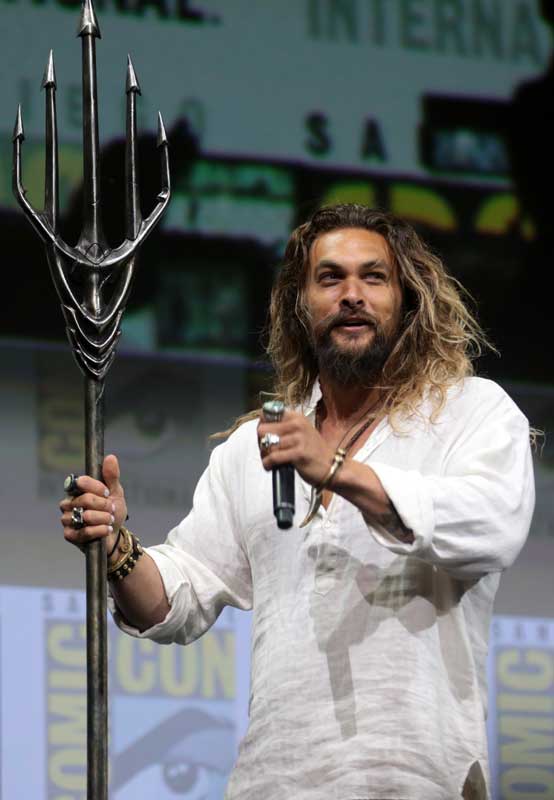 The San Diego Comic-Con 2018 has had another surprise that made fans crazy, and this time it was from the Atlantis Ocean.
The newly released trailer of Aquaman has given out the first glimpse of DC's Arthur "Aquaman" Curry. The trailer featured the magical and mysterious world at the bottom of the ocean, along with the highly expected battles for Aquaman to gain the throne of the Ocean.
Jason Momoa's Aquaman was one of the most surprisingly interesting characters in the DC universe last years as he and his crew including Batman, Superman, Wonder Woman and the Flash formed Justice League in the 2017 movie.
And here's what we learned about the upcoming movie about the muscular Ocean god from the trailer.
Arthur Curry is a half-human, half-Atlantean son of New England- based couple. His mother is Atlantean Queen Atlanna and his father is a regular man, Tom Curry. Nicole Kidman's Atlanna was seen holding her baby in the first scenes of the trailer.
The first supernatural ability of Curry is talking with Ocean animals and the ability to control them at will.
As we can see in the trailer, the young Aquaman can telepathically communicate with many Ocean creatures as he arrives at an aquarium.
The mob of angry fish was ready to attack on Curry's will was one of the most cinematic moments in the trailer, along with the bright yellow eyes shown when he uses his powers.
In another scene, the only Atlantean member of Justice League was seen to lift a huge submarine up above from the water and broke into another at ease.
Amber Heard's Mera looks much like the comic version with skinny, sparkling outfit with red, long hair.
Mera was created in the comic as Arthur's wife and she is the queen of the Atlantean Phantom Zone.
Patrick Wilson plays Orm Marius, Aquaman's half-brother and regular pretender to the throne of Atlantis. Marius aka the Ocean Master, was created to be a very powerful magic wielder and he potentially excels at modern technologies.
The Atlantis world is shown to be a huge society with a very large population.
The expected release date of Aquaman is Dec. 21, 2018, and director James Wan is showing his ability to bring a brighter colour scheme to the DC's universe.
Kenny Tran