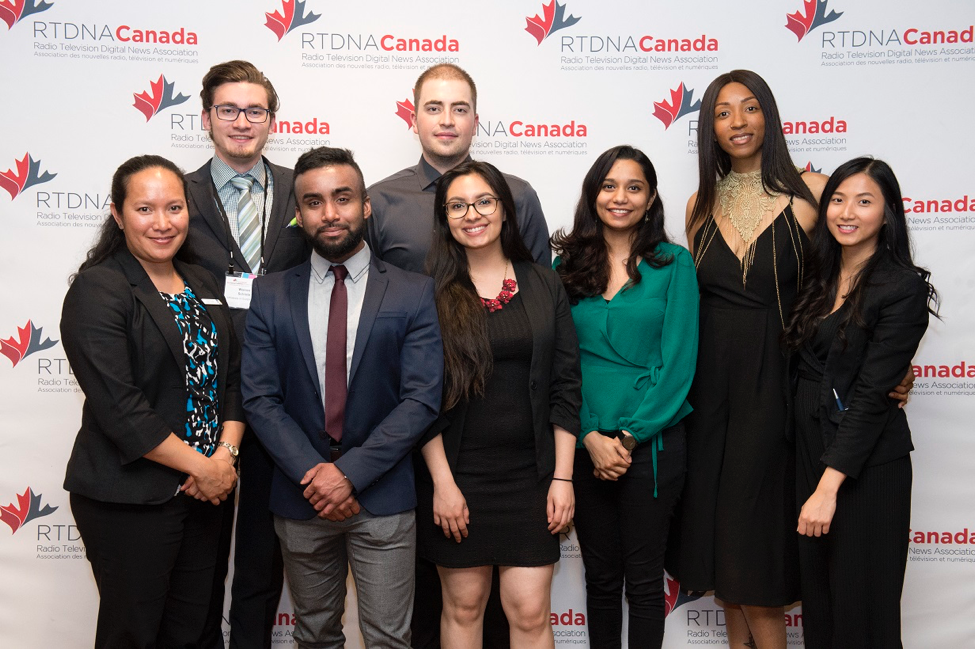 In Canada, we rely on credible news to inform us on what is happening in our great country. The Radio Television Digital News Association (RTDNA) of Canada holds an annual two day conference in Toronto to recognize excellence in the delivery of trustworthy and impactful news. The RTDNA conference is also the centre of the discourse on the evolution of news and how it is delivered to Canadians today and in years to come. 
I study radio broadcasting at Humber College, and was fortunate enough to have the opportunity to volunteer at the RTDNA conference this past weekend. My role as a volunteer was to sit in on the panel discussions and manage the live video streaming. This is what I learned.
The State of News
Credibility & "Fake News"
The fight to maintain the trust of the public was a focal-point of this years conference. This past weekend, I met many people in Canadian news media. I believe them to be good-hearted people with a passion for providing the public with what they need to know. This might come as contrary to the popular opinion that news media is some kind of evil entity that is melting the ice caps and putting fluoride in the tap water. 
Technology
The way Canadians consume their news is drastically changing. Podcasts are appealing to many people as a personalized and convenient platform to access information that matters to them. This year's conference ushered in the inaugural awards category for best news podcast, with CBC's Montreapolis emerging as a winner. Without a doubt, pre-existing platforms like radio and television still hold a great deal of significance to the Canadian citizen. However some of these traditional platforms are choosing to evolve in the face of competition from digital platforms. This transformation is happening right before our eyes, and it's fascinating to watch unfold.
Newsroom culture
The final panel at the conference on day 1 was an enlightening discussion titled "Fixing Newsroom Culture" with Lara Setrakian and Farah Nasser. Setrakian captivated the audience, sharing her experience as a young reporter subjected to the sexual misconduct of a man in power at her workplace. The discussion illuminated the importance of bringing this issue into the modern zeitgeist. Setrakian also brought up how important it is for men to do their part to ensure everyone in the workplace is treated with dignity and respect. The discussion is on the RTDNA Canada youtube & facebook page in it's entirety. I highly recommend you check it out.
The Forefront of Live Streaming
Dejero
This year's RTDNA conference was in partnership with Dejero. Dejero is a company that operates at the forefront of live streaming. The Dejero "EnGo" is a very popular product of theirs, and rightly so. It's a fascinating machine. One feature of the EnGo is to take multiple SIM cards from all available internet providers in a given location, and blend those connections to create a fortified "super-signal". This functions to ensure that your live stream video is supported by an incredibly reliable connection.
This is just one of many functions of Dejero's golden child. Here at Humber College, we have our very own Dejero EnGo; just another example of the Humber School of Media Studies & IT providing it's students with industry standard equipment to really get the most out of our education.
This year, the RTDNA really knocked it out of the park from a live-streaming perspective. With the help of Dejero, RTDNA Canada streamed and recorded all of the panel discussions from both days of conference. The videos can be found on the RTDNA facebook and youtube pages. I would highly recommend checking them all out.
"Volunteering is like a box of chocolates, you never know what you're gonna get"
            —Forrest Gump 
The opportunity to volunteer alongside so many great journalism students from Humber College, Guelph-Humber and Ryerson University was a pleasure. As it turns out, you really get to know someone during back to back 15-hour work days! The focus of my radio studies usually does not lead to much interaction with journalism majors. This experience at RTDNA introduced me to a highly motivated pocket of students. I was able to get a sense of their broadcasting dreams and aspirations. Although the vision I have for my broadcasting career is quite different from theirs, I get the impression we share a common goal; to create meaningful content that provides a service to the public.
I got so much out of listening to these news broadcasters, and getting a sense of exactly how important it is to broadcast with a high standard of accountability. I think that regardless of what avenue of broadcasting you get in to, it's important to do so with the utmost accountability to your audience. Above all else, what I have taken with me from this experience is motivation to press forward with the arduous process of logging my 10,000 hours of practice; to pursue this thing I love and create something of lasting impact.
Matt Hamel
A special thanks to:
Sheila Walsh
Kym Geddes
Scott Metcalfe
Paul Cross
Jim Van Horne
Jenny and Leya from RTDNA Canada
And Josette, Warren, Catherine, Damien, Amy & Miriam.