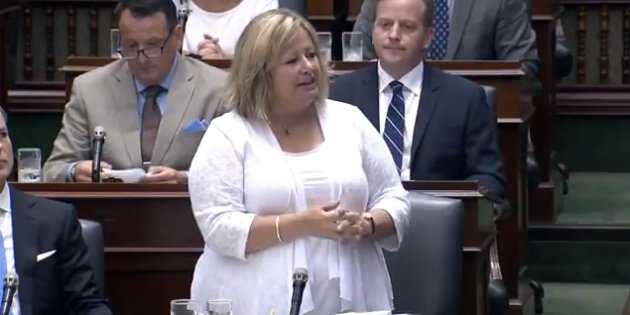 Ontario's education minister announced students will still be taught about consent, cyber safety and gender identity this fall despite her government's plan to scrap the province's modernized sex-ed curriculum.
In what is looking like a reversal from earlier, Lisa Thompson says the portion of the curriculum being replaced deals with "developing sexual relations," and certain elements of the document last updated by the former Liberal government will remain in place.
"We know they need to learn about consent," Thompson said at the legislature. "We know they need to learn about cyber safety, we know they need to learn about gender identity and appreciation. But we also know that the former Liberal government's consolation process was completely flawed."
Thompson's comments during a sitting of the legislature appeared to contradict her statement from earlier that teachers will use a 1998 version of the sex-ed curriculum this fall as consultations are carried out to create a new document.
And, critics have said the old version of the curriculum did not include many modern themes that children needed to keep themselves safe online.
When asked to clarify the government's position on Monday, Thompson said only a portion of the curriculum will be rolled back, not the entire document.
"What we'll be looking at is the developing sexual relations," she said. "That's the part in the curriculum we'll be taking a look at,"
On Saturday, around 150 people gathered outside Queen's Park to rally against several changes imposed by the new Ontario government.
That's not all either. More protests are planned in Toronto later this week.
A Queen's Park Sex-Ed Class is set to take place on Thursday where organizers will be reading the current curriculum out loud.

Women's March Canada is also planning to protest the changes wi4th a March for Education which is meant to challenge the "unprecedented assault on students' rights to a fair and up-to-date education."
Elsewhere, posters have been spotted downtown on public notice boards decrying the anti-LGBTQ+ sentiment associated with the curriculum repeal.
Petitions such as this one have also been making their way around the internet calling for the Ontario government to reverse the decision.
Premier Doug Ford has made the repeal of the sex-ed curriculum a key promise during his run for the Tory leadership earlier this year and during the spring election, saying parents had not been adequately consulted on the document that was updated in 2015.
The modernized curriculum, however, includes warnings about online bullying and sexting that were not in the previously taught version, which also discusses same-sex marriage, gender identity and masturbation.
NDP leader Andrea Horwarth had some scolding words for the Tories. Horwath said Monday's developments make it clear that the Tory government does not know what it's doing on the sex-ed file.
"September is coming pretty quick," Horwarth said. "It's reprehensible and irresponsible that this government has left everything in such a disarray that educators in our province aren't even aware of what's going to happen come September."
Interim Liberal Leader John Fraser said the change in how the course is taught from the government calls into question why they've repealed a curriculum that has been taught in classrooms across Ontario for the past three years.
"It's irresponsible to cancel that curriculum," he said. "It's there to protect our children."
Matthew Frank