Andrew Berkeley (@AndrewBerkeley)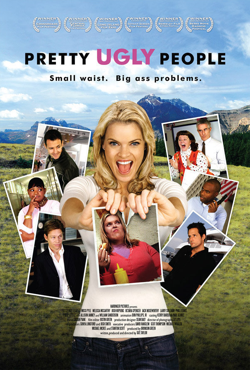 When it comes right down to it, exterior beauty doesn't mean anything if you're ugly on the inside. And with that moral of the story already blatantly stated, you can save yourself the hour and a half train wreck of a movie that is Pretty Ugly People.
The movie begins with a narrative from a character named Lucy (Missi Pyle) who was always known as the fat friend in her group of gorgeous college friends. Several years later, Lucy calls her five closest friends in distress leading them to believe that she is dying. She invites them all to Montana so that they can see her before she moves on.           
These friends include elementary school teacher Becky (Melissa McCarthy) and her husband Richard (Philip Littell), flight attendant Austin (Larry Sullivan), commodities trader George (Josh Hopkins), rap producer Trevor (Jack Noseworthy), and state representative running for senator Raye (Phill Lewis) who brings his wife/assistant Mary (Octavia Spencer).
When they all arrive in Montana, they come to realize that Lucy isn't dying; she's just lost all her weight. She said that she called them all together because she is only four pounds shy of her goal weight and when she achieves this, the old her will be dead. The new and improved skinny Lucy wants her friends to be a part of her journey and plans a four-day hike through the wilderness with her friends. They hastily accept the offer and embark on the hike.
Along the way, secrets are revealed and ugliness makes itself present through certain character's secret affairs, closeted homosexuality, and being unable to accept one another's lifestyles. 
Honestly, this movie is super boring. The plot is basically watching a camping trip with people who you don't care about. There are so many characters that it's hard to connect emotionally with any one particular person. So many issues are hashed out that you begin to forget who's dealing with what. The only constant is Lucy, who keeps reminding you that she's on this journey because she sprinkles ashes wherever they walk. When someone asks what the ashes are, she replies that when she had her liposuction procedure, she asked that her fat be burned so that she could mark the milestones. It's super gross.
The only positive to this movie is the gorgeous landscape of Montana. It truly does look like a peaceful place to walk through but the exterior beauty is ruined by the whiney campers who fight throughout the entire movie.
Pretty Ugly People can be streamed on Netflix today.