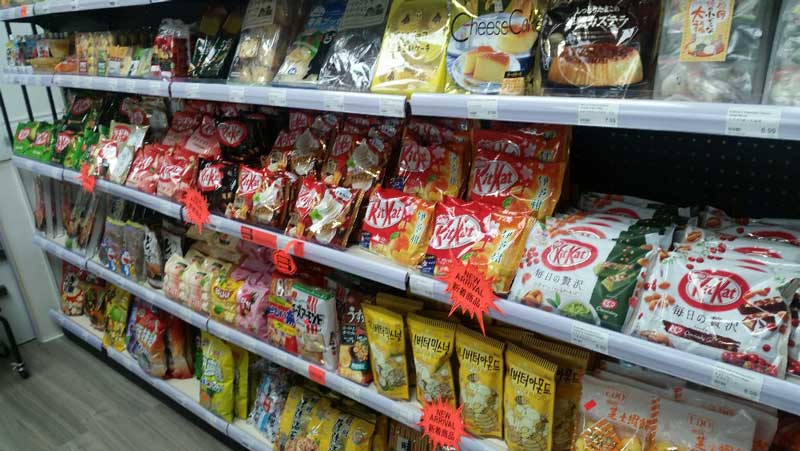 Kit Kats are extremely popular in Japan because the brand name means "good luck" in Japanese. Hence they are available in a variety of exotic flavours in Japan and also in Toronto.
Fruit flavours:
Kit Kat offers over 20 fruit flavours such as apple, banana, kiwi, pineapple, mango, strawberry, lemon, orange, blueberry, cherry, cantaloupe, white and yellow peach, watermelon, yubari melon, Raspberry passionfruit, shikuwasa lemon, pear, passion fruit, yuzu lemon and Shinshu apple.
Vegetable flavours:
Grilled potato, soybean, azuki bean (red bean), pumpkin, baked potato, Beni Imo (purple yam), chestnut, corn, enda mame (soya bean pods), Hokkaido roasted corn, hot Japanese chili, Okinawa sweet potato, red potato and wasabi ( Japanese horseradish) are some of the 13 varieties of vegetable flavoured kit kats available.
Tea flavours:
Green tea, Macha, Macha milk, jasmine tea, koucha (black tea) and Hojicha (Japanese green tea) are the six specialty tea variations of KitKat.
Cheesecake:
Lemon, blueberry, strawberry, pudding, bakeable custard, Kobe pudding, melon and cheese, crème Brulee, Yokohama cheesecake,
Speciality variations:
Cherry Blossom, Apricot seed, Anko and Macha tea, Chocobanana, French Bretagne Milk, Fruit Parfait, Strawberry cheesecake, French salt, College tater, Double Berry, Bitter chocolate, Maple, Frozen dark chocolate, Cookie plus and butter
Japanese regional dishes:
The Japanese have their own preferences when it comes to flavours.
Sakura, Nasu Kogen milk, Red bean paste, Soybean powder, Sweet bean paste, Strong soybean flour, Exotic Tokyo, Fruit parfait, soya sauce, Golden citrus, Green bean, Kuchidoke Kakao (chocolate ganache), miso soup, Cinnamon cookie, Citrus golden blend, Cough Drop, Double cookie, Hokkaido cheese and chocolate, Hokkaido Melon with Mascarpone Cheese, Rilakkuma hotcake and rock salt
Drink flavours:
Sake, Brandy and orange, Amazake, Apple vinegar, Sports drink, Cappuccino, Brown sugar syrup, Cafe au lait, Cappuccino,  Ramune (a carbonated soda), ginger ale, Sakura matcha latte, Royal milk tea and vegetable juice.
International Flavours:
European cheese, Muscat of Alexandria, Salt and caramel and Caramel macchiato McFlurry.
Michelle Neha