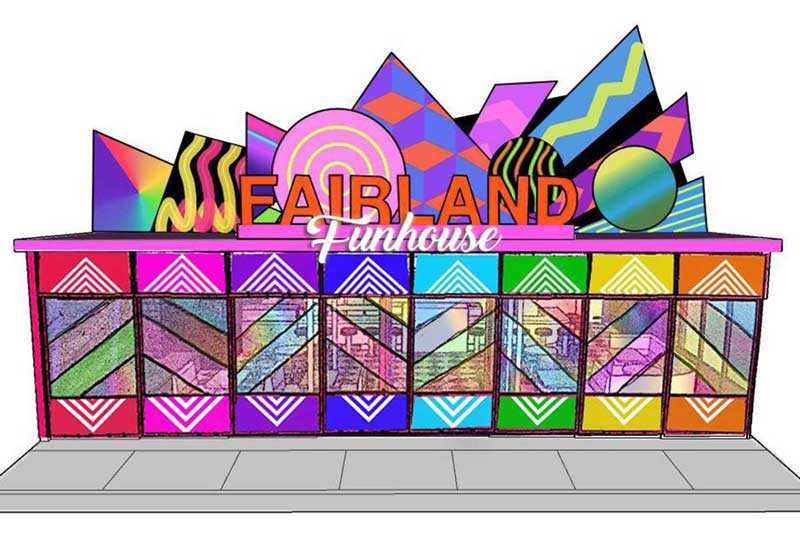 A psychedelic looking grocery store turned into a choose your own adventure funhouse in Kensington Market opening this summer is facing scrutiny from the public in part due to a liquor application for the same address. 
A Facebook group called Friends of Kensington Market put out a call for action Thursday afternoon to file an objection against what is being called a 622 seat bar in the diverse residential neighbourhood.
The Facebook post reads that "Fairland Funhouse's arts focus is only a temporary pop-up. . The permanent venue is a 622-seat bar called Liquor Donuts. This enterprise is owned by a corporate entity and is a concept tied in to a 2014 movie."
"They want a 622 seat liquor license in the heart of a mixed residential neighbourhood. Object here."

The directed link takes visitors to a webpage where members of the public can submit a search for Liquor Sales License Applications in the area.
A directed search leads you a store called "LD Eats" which has applied for a license at 241 Augusta Avenue, where artists and workers are setting up Fairland Funhouse, a music venue and experimental art maze that people can buy tickets to, but makes no mention of what "LD" means.
A press release gives some notion of what "LD" might mean however which reads the main floor "will be disguised as an underwater ballroom, the mainspace can accommodate over 200 guests and features Toronto's delicious new pastime – Liquor Donuts"
As for what the Friends of Kensington Facebook post the store is a "concept tied in to a 2014 movie," a business called Liquor Donuts is featured in Wolf Cop, a 2014 Canadian cult horror-comedy movie.
However, it seems that Liquor Donuts will be taking up permanent residency at the old Fairland supermarket in Kensington after the summer funhouse art and music experience takes place.
Fairland Funhouse has issued a statement from one of the creators of Fairland Funhouse, Jonah Brotman, which reads in part:
"241 Augusta Avenue will eventually transform into Liquor Donuts, a music-themed donut shop that serves craft beer inspired by the fictitious venue in the 2014 cult classic Wolf Cop and recently released sequel Another Wolfcop. Scheduled to launch in its final form in January 2019, the venture will feature a permanent multi-use gallery space, record pressing and studio/production space in the basement. The venture is independently owned by Canadian film producer J. Joly and with partners that include Chef Daniel Janetos"
What Fairland Funhouse, however, has to do with Wolfcup (and its liquour donuts), however has yet to be determined.

Fairland Funhouse art and music will debut in August 2018 and tickets can be bought online for 20 dollars.
Matthew Frank